Market Lane — The Office Of The Future
Market Lane, in the heart of South Melbourne, is redefining the modern office space.
With a people-centred approach, it aims to reimagine the traditional office space with a whole new take on how we work and where we work.
Architects Elenberg Fraser, in conjunction with the developers, builders and occupiers Hickory Group, have designed for flexibility. The design includes a combination of breakout zones, meeting spaces, and quiet areas that have the capacity to open up into external working zones.
"Market Lane is a case study in itself about how we can look at the traditional office differently." — Vicki Karavasil, Associate, Elenberg Fraser
Not only is Market Lane redefining the workplace, but it's also rethinking how the workplace affects the world around it by boasting 5 star NABERS and 4 star Green Star ratings.
This project is simply not like any other — it's a new design-thinking that focuses on employee well-being, incorporating a fun environment with flexibility, connectivity, health and balance.
Balancing art and science
The design team at Elenberg Fraser conducted extensive research into office architecture, with a particular focus on the current workforce generational shift.
They took the time to understand exactly what makes millennials want to work at a particular workplace, and better yet, stay working there.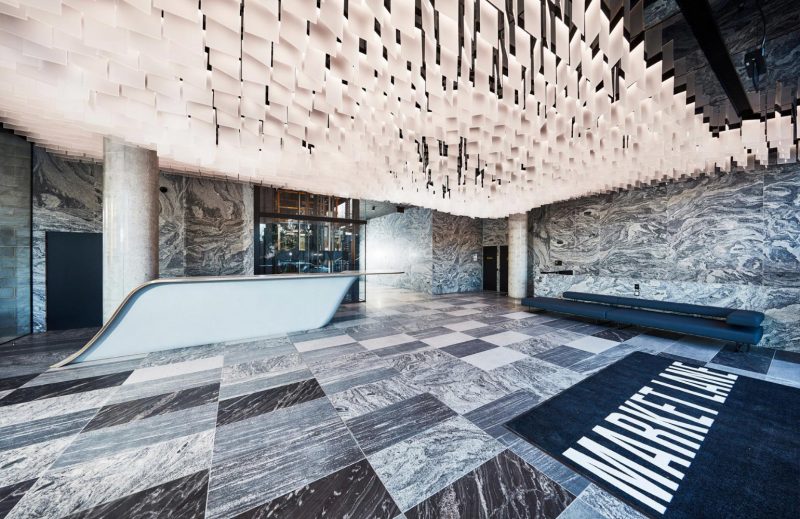 The result is a design that is sensitive to user needs — both for employees and employers.
"This project is just as good as we'd hoped, so much so that I have found myself going to the office on the weekend because the environment is so nice to work in." — Mathew Foden, Strategic Projects Manager, Hickory Group
User well-being is a huge focus for Market Lane, which is evident in the design's integration of the natural environment, integrated technology and the facilitation of incidental exercise.
In fact, the research behind Market Lane has developed Elenberg Fraser's twelve pillar approach to this innovative 'non-office office' — a combination that works to seamlessly connect health, lifestyle, technology, flexibility and landscape.
Novas products that fit the brief
Market Lane is home to a complete Novas Architectural Doorware package, featuring our B Series 63 Door Lever in a combination of our Satin Stainless Steel and Satin Black PVD finishes.
"Paul Thornewell and Beverley Meagher from the Novas team are always so helpful. If you ask for something, they'll make it happen no matter what. Even to the point of customising things to integrate continuous metal features throughout this project." — Nikki Marangos, Interior Designer, Elenberg Fraser
On top of that, the site benefits from a Novas restricted master keying system.
"There's always a can-do attitude with Novas, with no issues delivering exactly what we want." — Mathew Foden, Strategic Projects Manager, Hickory Group
Our entire team is motivated by projects like Market Lane — designs that push boundaries and redefine the way we think about and use space.
And in some ways, anticipate the future.
Designed in a pre-COVID time, Market Lane's incorporation of electronic features and building services, such as sensor sanitaryware and water-use tracking, reflects the transition of how we are now living and working.
We're excited for Market Lane's users, particularly our friends at Hickory Group as they experience a redefined workplace.
Another Novas and Elenberg Fraser collaboration for the books — brilliance achieved yet again, and this time, delivered by the excellent team at Hickory.
We're redefining product specification. Learn more about our integrated design approach.