Midtown Centre — Truly Iconic
Developer
Ashe Morgan & DMANN Corporation
Architect
Fender Katsalidis
Builder
Hutchinson Builders
In the heart of Brisbane's CBD, Midtown Centre is a convergence of several aspects: the collaboration of brilliant minds, design and vision, resulting in the merging of two existing office buildings for the first time in Australia.
With 42,000m2 of office space, a health and wellness centre, a sky terrace garden, a conference and training centre, and an activated laneway spread across a now merged pair of existing towers, Midtown Centre is a thoughtful and enhanced experience for its users.
"The design purposefully brings together an established sense of address, a new inner-city laneway, extensive amenities, and large light filled offices with leafy green vistas." — Karl Fender, OAM, Fender Katsalidis Founding Partner & Managing Director
From the beginning, the entire project has been exceptional.
The brilliant minds at Fender Katsalidis, in true style, went beyond the traditional skybridge methods of joining existing structures. Instead, they merged the buildings from top to bottom using a base podium — the first of its kind in Australia.
On top of the ingenuity of the design, once complete, Midtown Centre will be a 5 star Green Star rated building, receiving 4 and 5 NABERs water and energy ratings respectively, plus the decision to merge the buildings rather than demolish them is 231% more environmentally friendly.
"Everything about this project is iconic — from the structure itself, to the environmental benefits, and especially the team behind it." — Todd Foster, Novas Managing Director
Novas Architectural Doorware: the perfect fit
Fender Katsalidis specified a particular collection of Novas Architectural Doorware that will continue their bold architectural vision throughout the Midtown Centre interiors.
Among a comprehensive schedule, the classic Novas B Series 79 Door Lever was specified in our signature Satin Stainless Steel finish — promising to withstand the high levels of use in a contemporary corporate office environment.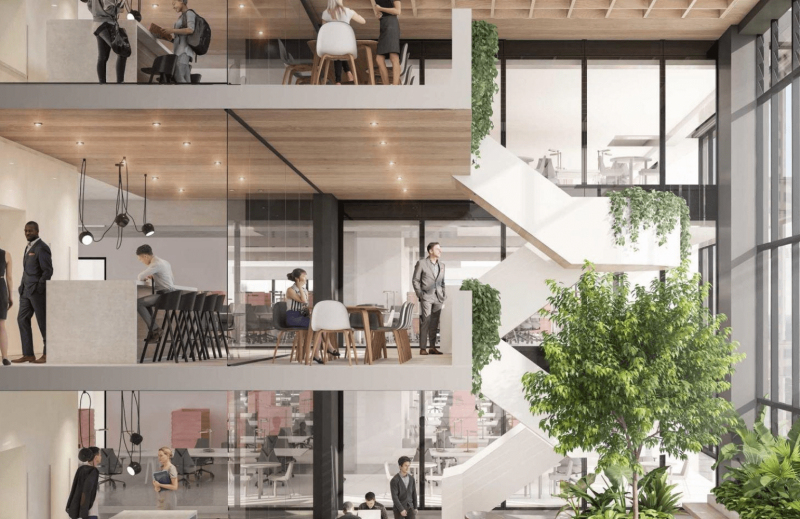 Midtown Centre also benefits from a Novas restricted master keying system, an offering we have spent significant investment in both time and resources in order to deliver on projects of this magnitude.
An exceptional project partnership
We're extremely proud to be working with such an impressive project team to deliver yet another iconic Australian project.
Hutchinson Builders have proven time and time again their abilities to bring to life some of the country's most impressive and complex designs, and of course, the team at Fender Katsalidis have given us another exceptional building to behold.
Contact us for more information about how we can design and supply doorware, kitchen and bathroom, and glass and glazing products for your next project.