World Architecture Day Interview Series: Why Architecture Matters
To celebrate World Architecture Day 2020, we're finding some of the biggest names in local and international architecture to unveil why they think architecture matters.
In a collection of four one-on-one interviews with Koichi Takada, Fariborz Hatam, David Hillam and Callum Fraser, we'll hear their views on the role of architecture, particularly as we ride the current economic, COVID and climate change waves.
We'll also find out what they're doing to break down barriers in their designs, plus, we'll learn what makes them tick.
In partnership with ArchitectureAU.com, our first interview will be live streamed via Zoom on Monday 5 October at 12.30pm (AEDT) to kick off World Architecture Day 2020.
Then, to continue the celebrations, we're turning World Architecture Day into World Architecture Month.
We'll be live streaming a new interview each Monday in October.
What to expect from the World Architecture Day Interview Series
As editor of ArchitectureAU.com, Linda Cheng has contributed over 750 articles about architecture and design in Australia and across the globe. She has been published in Architecture Australia, Houses, Artichoke, DQ, and the National Gallery of Victoria's Gallery magazine.
And we're thrilled to have her on board to host our interviews.
"When we pictured an interviewer, our minds went straight to Linda. Her knowledge and experience in the industry made it an obvious choice." — Todd Foster, Novas Managing Director
World Architecture Day Interview Series: Architect Announcement
Koichi Takada, Koichi Takada Architects
Koichi's accolades aren't news to many — he is perhaps one of the most decorated architects of our time.
After experiencing the impacts of high urbanisation in cities such as Tokyo, New York and London, Koichi has devoted his work to greening and naturalising architecture, particularly in urban environments.
You'll see these concepts in his recent projects, including the award-winning National Museum of Qatar Gift Shops. Described as the world's most beautiful museum gift shops, this project uses biophilic design principles reflected in 40,000 pieces of unique timber that form the curvaceous walls and roof.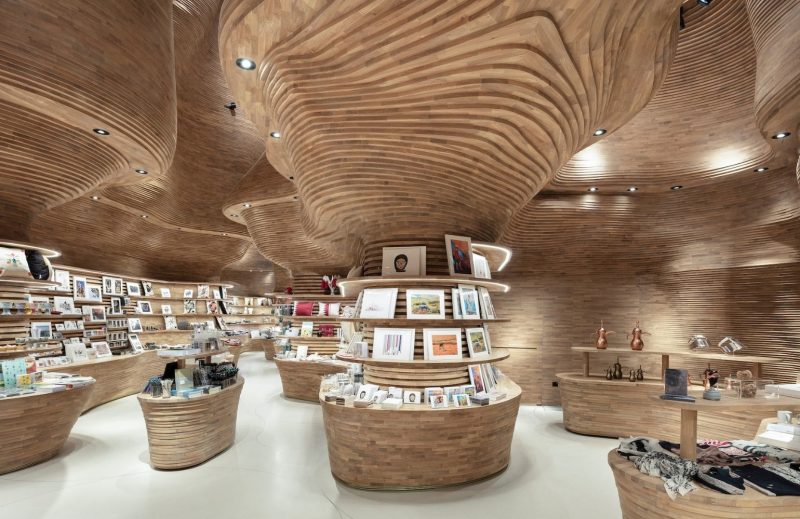 It's a direct response to Koichi's aim of bringing nature back into architecture, and connecting people and nature through design.
We can't wait to hear more about Koichi's vision, and how he thinks the rest of the world will adapt to such important principles, particularly in a time when the world's climate is at the forefront of how we live.
Fariborz Hatam, FHSI Architects
Fariborz has probably one of the most wide-reaching portfolios in architecture — his experience extends across Australia, Croatia, Afghanistan, India, Georgia, Iran, Qatar, Jordan, Saudi Arabia and the UAE.
His unique design approach is all about encompassing the environment, culture, and social and economic influences to create holistic and sustainable design solutions.
His vision has seen him win awards across several disciplines, including master planning, sustainability, and residential design.
Perhaps one of his most exciting projects is the United Nations Environmental Program Sustainability Centre in Dubai.
It incorporates truly sustainable design, including maximising passive techniques, selective daylighting and biophilia, that is expressed through the architecture and form of the building.
At the same time, it reflects the ancient Arab way of life to respond to the local climate, all whilst creating an inspirational social hub for sustainable practice.
We're looking forward to learning more about Fariborz's perspective on pushing the boundaries around sustainable design, biomimicry and contextual design solutions.
David Hillam, Hillam Architects
You can safely say that David is leading Perth's changing attitude towards luxury apartment living, increasing density and development in premium, well considered locations.
His passion for beautiful, function-focused residential design has resulted in an impressive track record of innovative, high-quality multi residential developments in the country's West.
In an exciting time of cultural shift in Perth, David has helped to propel the community towards higher density apartment-style living in suburbs including Floreat, Applecross, Subiaco, South Perth, Joondalup, Rivervale and Victoria Park.
At the forefront of apartment development and design in Perth, his portfolio includes numerous award-winning projects, including the recently completed Botanical in Subiaco, which took home wins at the 2019 UDIA WA Awards and 2019 Master Builders-Bankwest Excellence in Construction Awards.
We look forward to hearing David's perspective about what it takes to help others see your vision, no matter how crazy it might seem.
Callum Fraser, Elenberg Fraser
Callum is well-known for his impressive ability to combine high-level design with commercially viable outcomes.
After co-founding Elenberg Fraser in 1998, he has taken the practice from a small, Melbourne-based studio, to an architectural firm with reach throughout Australia and the world.
His passion for fusing the aesthetics of architecture with passive building technologies has seen Elenberg Fraser at the forefront of architectural wind technologies that focus on reducing energy consumption and increasing comfort for building occupants.
A clear example of this beauty-meets-function approach is the extraordinary form of Premier Tower, Elenberg Fraser's new CBD project nearing completion in Melbourne.
Callum's design direction combines a playful intellect with deep cultural appreciation.
He leads his team based on the idea that architects are responsible for the built environment, and we're looking forward to hearing his insights into where he thinks the built environment is headed.
Pre-register for the Novas World Architecture Day Interview Series
We're excited to hear from all our featured architects about their unique takes on why architecture matters to them and what they each think about the role of architecture beyond 2020.
Tune in on Monday 5 October at 12.30pm (AEDT) to hear from our first featured architect: Koichi Takada.
Pre-register for the World Architecture Day Interview Series.