NoBa — Organically Sophisticated
Architect
DKO Architecture
Builder
Orange Building Solutions
Nestled right in the hub of Balwyn North's vibrancy, NoBa Apartments' unique façade adds curvaceous and soothing characteristics to the area's busy street life.
Understanding the potential of such a sought-after location, developers DCF Property enlisted the expertise of DKO Architecture to create something magnificent.
Breathtaking organic form
Inspired by the natural free flow form of curved design, DKO have envisioned a living, breathing expression of dynamic and sophisticated architecture.
"We're trying to create different moments, different experiences throughout the building," explains Dennis Chew, Associate, DKO Architecture
Using artist and Creative Director of Dinosaur Design, Stephen Ormandy's architecturally inspired art piece, DKO have taken the organic and curved elements present throughout our everyday lives and carefully incorporated them into every aspect of NoBa's design.
"Our inspiration for NoBa was really about having a building that is amazing to live in. We wanted something a bit softer, a bit more...human," says Jesse Linardi, Director, DKO Architecture
As well as its impressive design, NoBa acts as a functional, multipurpose addition to the area, with 47 apartments, three retail spaces, two basement levels, a rooftop terrace, plus 74 car stacker spaces.
Constructing these carefully curated elements of a brilliant DKO design is a task reserved for some of the industry's most experienced builders. In this case, Orange Building Solutions have worked tirelessly to ensure this purposeful design vision has actualised.
Novas products that fit the brief
Understanding the very particular decisions behind an architectural design is key in ensuring each element plays its role perfectly.
For the NoBa bathroom tapware and showers, the Novas Kitchen & Bathroom Olo Series was selected due to its smooth curves, brilliantly complementing the stunning curved shower walls and mirror detailing. In addition, Novas Kitchen & Bathroom custom manufactured a collection of solid surface basins to ensure every design aspect was realised.
NoBa kitchens house the Soho Series Gooseneck Kitchen Mixer — again, its sleek curvature working effortlessly within the design — whilst the Apartment Series Single Bowl Sinks add somewhat unexpected straight lines, perfectly contrasting the soft forms found throughout the residences.
A vast range of Novas Architectural Doorware products can be found throughout NoBa, and perhaps none more specifically selected than the Novas B Series 35 Lever, chosen due to its natural curved design.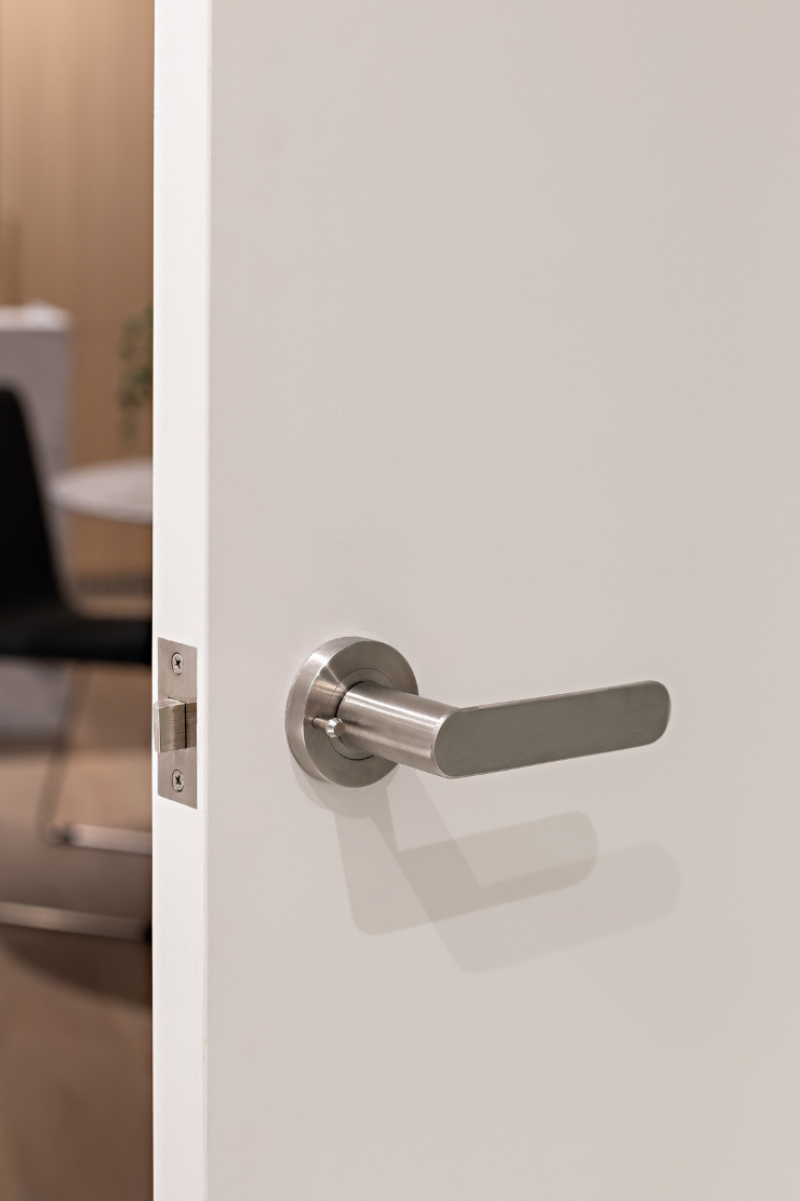 This selection of Novas products appears in a combination of finishes across the two utilised Novas divisions. Novas Kitchen & Bathroom products are finished in sleek Graphite, whilst the Novas Architectural Doorware products exist in both Graphite and Satin Stainless Steel, truly displaying the Novas versatility across products and divisions.
We are thrilled to have worked alongside Orange Building Solutions to supply a collection of brilliant Novas products, ensuring another DKO design was taken from an inspired vision, to a truly breathtaking piece of architecture.
Contact us now to find out how Novas can work with you on your next project.