What We Learned From The Novas World Architecture Day Interview Series
To celebrate World Architecture Day 2020, we found some of the biggest names in the business to ask why they believe architecture matters, and how their practices are riding the current economic, COVID and climate change waves.
In a series of four one-on-one interviews, our host and ArchitectureAU.com's editor, Linda Cheng, virtually sat down with Koichi Takada, Fariborz Hatam, David Hillam and Callum Fraser.
We heard about how Koichi's time in Tokyo, New York and London shaped his understanding of urbanisation and green architecture. Fariborz's interview teamed nicely with this theme as he discussed his firm's role in the first zero waste community.
David Hillam gave us great insight into how he managed to actually start his practice in the throes of Australia's last recession in the 90s, and Callum Fraser explained why he just can't see architecture being quantified to a per square meter or capitalisation rate.
Amongst these such diverse discussions, there did appear a few common talking points.
So, here is what we learned:
1. Architecture matters — for many reasons
2. Sustainability is at the heart of the future of architecture
3. The decade ahead is bright — inclusion, technology, sustainability and beyond
1. Architecture matters — for many reasons
Why does architecture matter? Each architect was asked why architecture matters to them in a general sense — a sense that would resonate with the everyday person.
Fariborz used his firm's (FHSI Architects) logo to illustrate why architecture matters — the dot above the letter 'i', isolated in the logo, represents an idea in the unknown.
"We start our design process with a dot. We say two dots become a line, a series of lines and ideas becomes a sketch, the sketch becomes a concept, a concept becomes reality and the reality becomes history. The architecture then becomes our identity and our culture," he explained.
Image: Fariborz during his interview with the FHSI logo behind him, explaining the meaning behind it.
Not without challenges
David highlighted the challenges that architects have in actually engaging with the everyday person about the value of architecture. A great way to address that is simply to let your work speak for itself:
"Ultimately it's really through people seeing the work that you do, and the profession itself challenges each other by looking at each other's work locally and it builds from that point," noted David.
Image: Upcoming Hillam Architects project, Trellis.
More than architecture
Callum went back to his fundamentals:

"Does architecture matter? We would say 'architecture lives'."
He went on to explain that the team at Elenberg Fraser believes great architecture is the construction of great environments — places that nurture us physically and emotionally.
Premier Tower, Elenberg Fraser. Visualisation: POINTILISM.
For Koichi and his team, they believe architecture matters because without architecture, there's no sense of humanity or no interaction with nature, instead, just a representation of economic models.
"Architecture can turn the ordinary city space into something that is different and special."
To follow on, Koichi was staunch in his explanation that architecture is here to educate the world.
"It's not just a piece of art to look at. It is not just to provide function for the certain people that use the space, but (architecture) can very much belong to our community and to really challenge ourselves to do better things for a better future. That's why architecture still matters to us."
2. Sustainability is at the heart of the future of architecture
Our featured architects were certainly not shy about expressing their concerns over the climate crisis, and how integral their roles as professionals are in saving our planet.
More questions than answers
Interestingly, Fariborz asked and addressed some points around the impact of such quick and vast construction in Dubai.
"So, as an architect, I would say, is Dubai a 'visit city'? Definitely. But not only to learn through what's been done, but... really question the capability of such magnificence. Could we have taken our time and planned it better? What is the rush? Why is it we're speeding so fast when we could have actually, you know, looked at it more from a sustainability point of view rather than just basically buildability?"
Linking back to the pandemic, Fariborz asks possibly one of the greatest questions: "What have we learned from it?"
He went on to detail two options:

"Do we go back to our cubical days of our offices after this pandemic… and increase the number of office spaces and reduce interaction and wellbeing and build more offices, which adds more carbon dioxide?"
"Or are we actually going to find different ways of working cleverly?"
Koichi asked similar questions around the climate crisis:
"The biggest challenge is how can we detox architecture… how can we detox our thought process?"
He went on to talk about the toxicity of building materials and how architecture, as a profession, must look after the environment and coexist with nature in the most pure sense.
For Koichi, this is the biggest challenge facing architecture right now.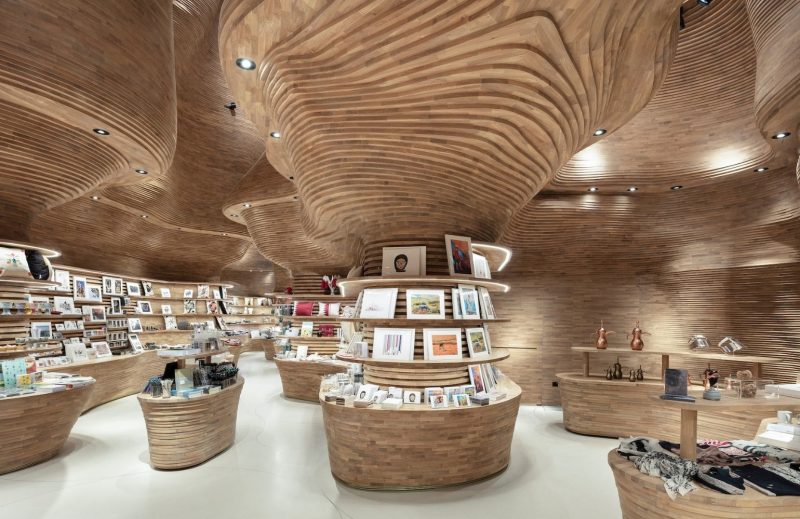 Similarly, David spoke about the need for architects to rethink what they believe their mandate is in terms of their role in this climate emergency.
"I think we should look at those challenges as something we want to take on and want to really help to deliver a better planet and better community, and see it certainly as our role to be interested in those things."
Architects to take charge
Callum chatted to Linda about the mechanisms already in place at Elenberg Fraser that help their team "leave the world not a worse place than when (they) find it."
He also explained that architecture is well placed in leading part of the movement towards a greener future, noting that he views architecture as a broachchurch that brings together various specialisations from the community.
Ultimately, from a climate perspective, architects can ensure that the buildings of the future will be very different to those of the past.

"And while the Government may have it completely wrong and provide zero leadership in that regard, as a community of professionals, we are standing in stark resistance to that and taking responsibility for our part and our role in the world. Architects must... be part of this revolution. We must lead it."
3. The decade ahead is bright — inclusion, technology, sustainability and beyond
When asked about the future of architecture, specifically the decade ahead, each of our featured architects spoke of exciting opportunities that come with great responsibility.
Sustainability, living architecture and green buildings
Koichi's focus for the decade ahead is all about green architecture:
"I think that the next decade will be defined by more living architecture."
He spoke of the transformation ahead, focusing heavily on incorporating living materials over 'dead' counterparts. This, he hinted at, may even change the face of architecture forever:
"And perhaps in some way, in a strange sense, as I call it, maybe the death of architecture in the sense of solid and dead materials…"
In a similar vein, Fariborz sees a more resolved decade ahead in terms of sustainability, where it's not just about energy reduction, but also a keen focus on biomimicry.
"At FHSI, we combine science and architecture. We believe in designing buildings that have a positive impact on humans and the natural systems that interact with them. So the biomimicry really offers an interconnected understanding of how life works and ultimately where we fit in."
The emphasis on scientific research based on learning from (and emulating) nature's form, process and ecosystems will help to create more regenerative designs in the next phase of architecture.
Fariborz used the Australian Biome project — the first indigenous proposed cultural precinct — as an example:
"Our goal is to really design a culturally-rich, fully regenerative design. This means by creating this building, we have a positive environmental impact on carbon, water, waste, energy and material efficiency that really embraces the ecology of the place, its sense of belonging, equity and inclusion, health, happiness and inspiration, and of course, aesthetic beauty that we're bringing along with it."
Technology advancements to potentially redefine architectural processes
David, on the other hand, is excited by technology's potential to completely reinvigorate architecture over the next ten years and beyond.

"It's a really exciting time for architecture because of the technology and the way that we view our work through digital visualisation production and so forth."
By taking a closer look at how technology has redefined some architectural processes, as well as manufacturing and supply processes, David expects a further surge:
"It's an incredibly exciting time in that we have the capacity to produce much more sophisticated designs because of the tools we have at our disposal."
He also highlighted the degree at which more common products, like cars and phones, are manufactured and how those manufacturing principles can provide exciting opportunities to architecture.
"The degree of development in those things has been incredible and the production of those objects is highly automated and that's what's going to be the really amazing thing about architecture in the future."
Inclusion above all
For Callum, the next decade of architecture is defined by inclusion:
"I think, for all the things we've discussed, you know, that architecture, necessarily, becomes a much more inclusive place."
He sees a resistance against the polarisation of architecture that we have seen in the past.
Instead, he sees great challenges in the world and across communities in the future, and architects must understand that they will struggle to achieve viable pathways on their own.
Inclusivity, he suggests, will bring unification:
"Inclusivity, I think, is going to drive a lot of the ways which architects bring everybody on board to be part of this kind of new, positive future that we see."
From sustainability, to the future of architecture, all the way through the various reasons why architecture matters, we are thrilled to have been able to provide a thought-provoking and inspiring interview series, with truly exciting industry leaders.
If you missed out, you can catch up on each interview here.