9 Public Design Projects To Look Out For At The 2019 AIDAs
The Australian Interior Design Awards seeks to find and celebrate brilliant Australian designs, and boy, is the Public Design category brimming with exciting designs, or what?
Here are nine to look out for at this year's AIDAs:
Victoria University Building C Lecture Theatres
DesignInc
DesignInc worked tirelessly to re-think an existing footprint that brought to life Victoria University's bold vision of a cutting edge learning destination for its entire campus.

The design team has created an inspiring learning and study area that is using inspired techniques, such as biophilic design, to create a welcoming, dynamic, contemporary and future-thinking space.
It's no wonder this project won the 2018 International Interior Design Association Global Excellence Award for Education!
Photography by Dianna Snape
Macquarie University C7A Maze
Architectus
Recognised at the 2018 SA/NT Design Institute of Australia Awards in the Built Environment (Gold — Education) category, this project aims to challenge current student and staff environment standards by encouraging new ways of working and interacting via innovatively zoned spaces.

The sheer flexibility of this project means a mixture of interactive spaces, informal zones, workshop/brainstorm/support areas, event space, seminar and private rooms all co-exist in a bold combination of coloured glass and modular furniture.
This one's an absolute wonder to look at.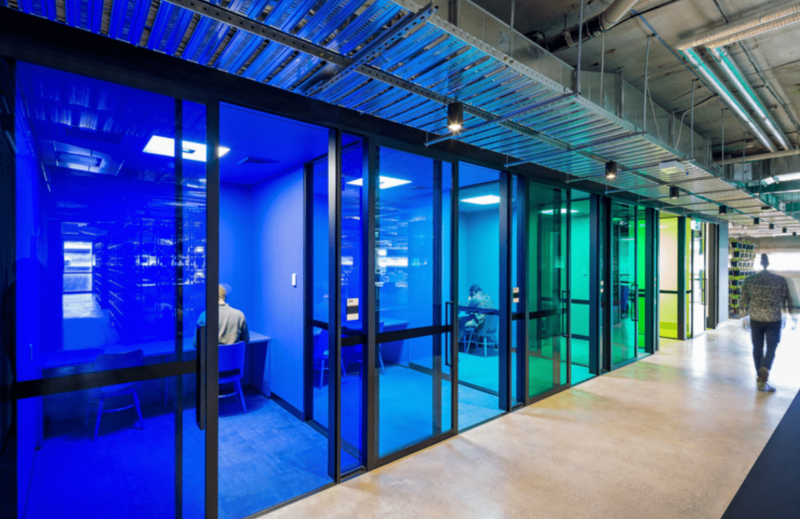 Photography by Guy Wilkinson
UniSA Business School Hub
MPH Architects
Similarly recognised at the 2018 SA/NT Design Institute of Australia Awards in the Built Environment (Gold — Education) category, this project was designed to reflect UniSA's position as one of the world's leaders in business education. As a result, The Hub upgrade provides various functions, including collaborative spaces for students and industry professionals to interact.

With Australia's first training and education stock trading room designed to simulate real-world practice, and a particular focus on connected design, The Hub truly provides immersive student learning experiences.
Photography by Sam Noonan
Dangrove
Tzannes
Although designed to share and conserve art, Dangrove is a gallery within itself.

Its impressive design hasn't gone unnoticed with a win at the 2018 Australian Steel Institute Awards (Large Projects) and two shortlists at the 2019 NSW Architecture Awards for Commercial Architecture and Interior Architecture.
On top of that, Tzannes Director, Alec Tzannes, has been awarded the Australian Institute of Architects' Gold Medal for his unbelievable vision and contribution to the world of architecture.
Dangrove is one of his most recently completed projects — and it certainly reflects these sentiments.
Photography by Ben Guthrie
Melbourne Central Arcade
Kennedy Nolan
A heavily used public space, Melbourne Central has undergone significant reinvigoration to produce a contemporary design that works to reflect the new and diverse ways the space is used.

A staged approach was undertaken due to the project's size and complexity, and unsurprisingly, the Melbourne Central Lower Ground stage won the 2016 Interior Design Excellence Awards (Retail).
In addition to the 2019 AIDA (Public Design) shortlist, the Melbourne Central Arcade stage has also been shortlisted in the 2019 VIC Architecture Awards for Commercial Architecture and Interior Architecture.
Photography by Derek Swalwell
Curtin Think Space
Arcadia Design Studio
Recently receiving a Commendation at the 2019 Dulux Colour Awards (Commercial Interior — Public and Hospitality), Think Space pursues inspiring ideas of future-thinking and optimism via its innovative use of flexible, collaborative and bold design principles.
By zoning the space creatively, Arcadia Design Studio have created a learning environment that encourages broad idea development whilst enabling easy and fluid physical transitions between areas.
Definitely a space to spark ideas!
Photography by Dion Robeson
Perth Children's Hospital
JCY Architects and Urban Designers, Cox Architecture and Billard Leece Partnership with HKS Inc.
Challenged with the notion of designing a hospital from a child's perspective, the impressive team behind this huge project implemented a series of diverse design principles that balances its various uses.

By incorporating biophilic design, bright colours, natural light and interiors that are intended to be climbed and explored, the hospital's patients and families benefit from uplifting and optimistic surroundings.
At the same time, the space utilises state of the art technology used to further the facility's world class clinical care and pediatric research.
It's definitely a project worthy of being a Finalist in the 2019 Dulux Colour Awards (Commercial Interior — Public and Hospitality).
Photography by Shannon McGrath
South Melbourne Primary School
Hayball
South Melbourne Primary School is more than a school. Not only is it Victoria's first 'vertical school', pushing ideas of how education design functions, behaves and inspires, but it has been recognised internationally as an example of exceptional innovative design in high density areas.

This project was named Future Project of the Year at the 2016 World Architecture Festival in Berlin, as well as being awarded the Future Projects – Education category.
More recently, it's been shortlisted in the 2019 VIC Architecture Awards for Urban Design, Educational Architecture and the Melbourne Prize.
What a success story for education design in Victoria.
Photography by Dianna Snape
Green Square Library and Plaza
Studio Hollenstein with Stewart Architecture
Winners of the 2018 Architectural Review Library Award, this extensive public space is redefining traditional concepts of a library.

Even though it's largely underground, it cleverly combines innovative buildings, outdoor plazas and various zones for people to work and play, including a community room, amphitheatre, storytelling garden and wide open spaces for festivals and event programming.
As you would expect, Green Square Library and Plaza has also been shortlisted in the 2019 NSW Architecture Awards for Public Architecture, Interior Architecture and Urban Design.
Congratulations to all shortlisted projects in the Public Design category — as sponsors, we are honoured, and as members of the public, we are awestruck.
We're looking forward to celebrating architecture and design with you at the ceremony.
To read more about public design of tomorrow, download our report 'The Future of Public Design' here.